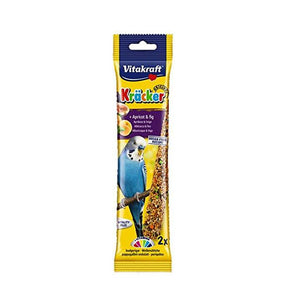 Vitakraft is crafted with love for your pet bird! 
These tasty Kracker Sticks are packed with vitamins and essential nutrients for budgies. 
Each stick features three layers - the outer layer has wholesome cereals, seeds, apricot, fig and honey, while the next layer has a tasty biscuit. Lastly, the core is made of a chewable wood. Your bird will be happily occupied and has its beak maintained as it works through these delicious layers. Suitable for all budgerigars. Also includes a plastic hanger to fix it to your birds cage.
- Packed with vitamins and essential nutrients
- Promotes healthy wearing of beak
- Keeps bird occupied while working the layers.
Ingredients:
Cereal, Seeds, Fruit (Dried Fig 1.5%, Dried Apricot 0.92%), Minerals, Derivatives of vegetable origin, Eggs and Egg Derivatives, Vegetables, Honey, Algae.
Supplemented Additives:
Size:
Feeding Guidelines:
Feed anytime, simply hang in the cage and provide plenty of fresh clean water.