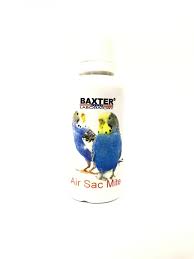 The parasites can be present all the way from the nose to the tiny air sacs in the lungs.
Suitable for all types and species of bird.
Directions: Hold the bird in your hand & stretch the legs. Brush the fin feathers till you see the skin. Drip a drop and gently rub it.
1drop for bird less than 30 gms.
2 drops for birds more than 30 gms to 200 gms.
3 times a day for 21 days.
Is best to treat new birds when you brought it home as a preventive quaranfine measure.