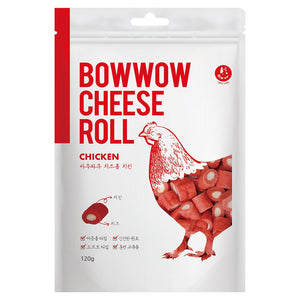 Features: Bow Wow Cheese Roll is a soft and nutritious treat for your dog! It is rich in protein and low in fat, salt and calories and helps support absorption and digestion.
- Low fat, salt and calorie content
- Rich in protein
- Supports absorption and digestion
Made in Korea
Ingredients: Cheese, Salmon, Fish, Wheat, Soybean dietary fiber (a bean cake), Composite amino acids and the rest.
Analysis:
Crude Protein(minimum) 15%
Crude Fat(minimum) 2.0%
Ca(minimum) 0.1%
P(maximum) 0.9%
Crude Ash(maximum) 6.0%
Crude Fiber(maximum) 5.0%
Size: 120 grams