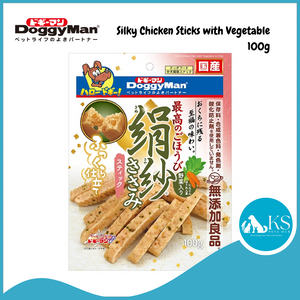 *Free of preservatives, synthetic colors, colorants, or antioxidants
*The silky smooth dough has a soft and gentle texture like a cake. We made it using DoggyMan's original method.
*Contains glucosamine, chondroitin, and collagen for the healthy daily life of your dog.
*Added carrots and spinach, which is rich in vitamins and minerals.
Ingredients
Meat (chicken meat, chicken breast, chicken meat), wheat flour, sugar, tapioca starch, vegetable oil and fat, vegetables (spinach, carrot), collagen peptide, fish cartilage extract (containing chondroitin), glycerin, trehalose, sorbitol, swelling agent, minerals (sodium), sodium polyphosphate, colorant (gardenia, marigold, chlorella) (gardenia, marigold, chlorella), glucosamine
Analysis
Crude Protein(Min.)11%, Crude Fat(Min.)5.5%, Crude Fiber(Max.)1%, Crude Ash (Max.)5%,
Moisture(Max)35%, Energy kcal/100g