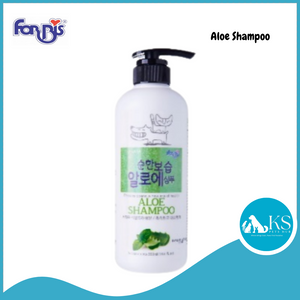 A gentle formula for delicate skin, it contains natural aloe and allantoin which nourishes and leaves coat glossy.
INGREDIENTS:
Ammonium Lauryl Sulfate Solution, Sodium Laureth Sulfate, Cocamidopropyl Betaine, Sodium PEG-7 Olive Oil, Carboxylate, Glycerin, Bis(C13-
C15 Alkoxy)PG-Amodimethicone, Tocopheryl Acetate. Allantoin, Aloe Vera Gel, DL-Panthenol, Moringa Oleifera Leaf Extract, Acacia Concinna Fruit Extract
Instructions
Before stating shampoo, loosen the tangled hair and then wet the hair with lukewarm water thoroughly, and apply adequate amount of the shampoo. Once you have shampooed the hair, rinse if with warm water thoroughly, and if you don't wash it sufficiently it may cause a skin disease.
*Product image and information are correct at the time of publishing on this website. For the most accurate information and image, please refer to the actual product.