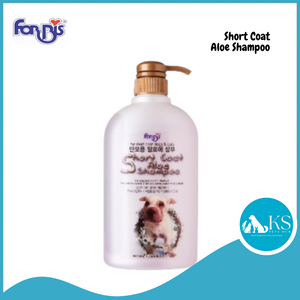 Forbis Short Coat Aloe Shampoo contains aloe vera gel to help protect water supply. Adds lubricates and moisturizes skin to the coat. Ultraviolet (UV) light back, anti-inflammation, quickens the circulation of the blood, oil-water balance and adds luster and shine to your pet's coat without delicate coat or drying sensitive skin. It is mild shampoo of non-stimulating material that is made to be suitable on skin and coat of young animals. It cleans gently and thoroughly. It does not stimulate's the eyes and skin of puppies, clean scent and mild fresh. The special additives olive oil extract and heat-active ingredients will leave pet coat rich, luxurious and smooth. This product prevents coat's tangle.
Ingredients:
Aloe vera gel, methyl  isothiazolinone/ ,  betaine, fragrance, tocopheryl acetate.
Instructions:
Before starting shampoo, loosen the tangled hair and then wet the hair with lukewarm water and apply an adequate amount of the shampoo. Rinse it with warm water thoroughly.
*Product image and information are correct at the time of publishing on this website. For the most accurate information and image, please refer to the actual product.