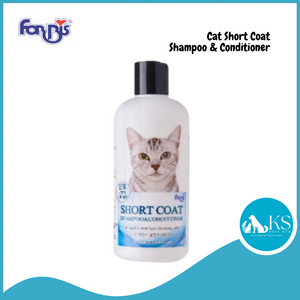 With added Aloe Vera and Herb Extracts, Forbis Long Coat Shampoo smoothens and moistens your cat's coat and skin. The added Allanton also protects exposed skin and helps reduce irritation and itching. Using our shampoo will help reduce body odour greatly, leaving a lasting fragrance on your pet!
Directions:
Before shampooing, loosen tangled fur with a brush and proceed to wet fur with lukewarm water thoroughly. Apply an adequate amount of shampoo over your pet's fur, rubbing it's fur together to lather. Rinse off the shampoo thoroughly ensuring all of the product is rinsed off.
Consult your vet if you are unsure if your pet is allowed to use this particular shampoo. If your pet reacts adversely to the product, please visit the vet.
Ingredients:
Ammonium Lauryl Sulfate, Polyquaternium-10, Glycerin, Hydrolyzed Collagen PG-Propyl Methylsilanediol, DL-Panthenol, Allantoin, Aloe Vera Gel, Tocopheryl Acetate, Propolis Extract, Laurus Nobilis Leaf Extract, Olea Europaea (Olive) Leaf Extract, Thymus, Vulgaris (Thyme) Extract
*Product image and information are correct at the time of publishing on this website. For the most accurate information and image, please refer to the actual product.