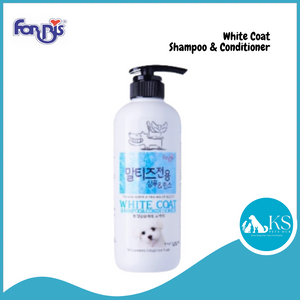 The mild washing property extracted from coconuts and the water-soluble collagen, including a special additive, gently cleanses the fragile and damaged indumentum, removes tear stain & dirt, mild & tearless, for a bright & skinny coat.
Attention: It is important to take the necessary precautions whether it is under medical care for a variety of diseases or if there are skin anomalies, such as red patches, swelling and itching, etiology, shampooing, poor constitution or under medication. Please contact a veterinarian for use on a five month old infant, the elderly or for the one who has just delivered babies and obey his or her instructions. Be careful not to have it in their eyes, but thoroughly scrub it out with clean water if it has come into contact with the eyes. When you want to dry it out, stop collectively blowing it to a single spot (It can be a cause for a xeransis or a burn). Store it in a cool position away from direct sunlight by closing the cap tightly and holding it straight. Keep it out of reach of animals or kids in a spot.
Ingredients
Aloe vera, High quality protein.
*Product image and information are correct at the time of publishing on this website. For the most accurate information and image, please refer to the actual product.