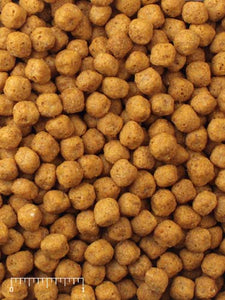 Description
A complete diet for large psittacines. This diet is specially formulated for breeding birds and for birds raising young. 

Features and Benefits
 Specially formulated with balanced nutrition - Can be used as the sole diet for breeding birds.
 Nutritionally complete - Requires no mixing or supplementation.
 Better than pellets - Less fines and increased digestibility.
 Better than seeds - Less waste (20-50% of seed weight is hulls).
 Reduced diet preparation - Less time chopping fruit and veggies.
 Formulation allows for supplementation with species appropriate food items - Can include up to 20% (by weight) of diet as produce, seeds, etc. to encourage natural feeding behaviors and for training and enrichment.
 No artificial colors or flavors.   Natural sources of pigments, antioxidants and Omega-3 fatty acids.
 
Product Form Catalog # Extruded feed: 5/16" round particle.
 25 lb. net weight paper sack 0001455
 
Guaranteed Analysis
Crude protein not less than ............................... 19.0%
Crude fat not less than ........................................ 6.5%
Crude fiber not more than ................................... 4.5%
Moisture not more than ..................................... 12.0%
Ash not more than ............................................... 7.0% 

Ingredients
Ground corn, dehulled soybean meal, corn gluten meal, wheat middlings, soybean oil, dicalcium phosphate, flaxseed, calcium carbonate, wheat germ, brewers dried yeast, calcium propionate (a preservative), dried egg product, salt, dlmethionine, l-lysine, Lactobacillus acidophilus fermentation product dehydrated, choline chloride, l-ascorbyl-2polyphosphate (stabilized vitamin C), pyridoxine hydrochloride, Lactobacillus casei fermentation product dehydrated, Bifidobacterium thermophilum fermentation product dehydrated, biotin, Enterococcus faecium fermentation product dehydrated, beta carotene, d-alpha tocopheryl acetate (form of vitamin E), cholecalciferol (vitamin D3), menadione sodium bisulfite complex (source of vitamin K), preserved with mixed tocopherols (form of vitamin E), folic acid, rosemary extract, vitamin A acetate, l-tryptophan, citric acid, riboflavin, canthaxanthin (color), calcium pantothenate, nicotinic acid, tagetes (Aztec marigold) extract (color), thiamine mononitrate, vitamin B12 supplement, manganous oxide, zinc oxide, ferrous carbonate, copper sulfate, zinc sulfate, calcium iodate, sodium selenite, cobalt carbonate.
 
Feeding Directions
 This diet should be fed to prepare the birds for breeding and throughout the breeding season. If the birds are seasonal breeders or they are managed to be seasonal breeders, offer the Mazuri® Parrot Breeder Diet at the start of the breeding season. If the birds are bred all year, feed this diet continuously. Wean young birds on this diet and continue feeding until first molt. After first molt, switch birds to Mazuri® Parrot Maintenance Diet.

 To switch birds from seeds (or any diet they are currently being fed) to Mazuri® Parrot Breeder Diet, do a gradual changeover, starting with 90% seed (or current diet) and 10% Mazuri® Parrot Breeder Diet. On each succeeding day, reduce the amount of seeds by 10% while increasing the amount of Mazuri® Parrot Breeder Diet by 10%. On the 10th day, the diet should consist only of Mazuri® Parrot Breeder Diet. 

o Monitor the bird's weight and behavior carefully during the conversion period. Be specially attentive during the 10th to 12th day. If the bird is losing weight, or if the bird is not consuming the product, offer the bird a mix of 50% seed and 50% Mazuri® Parrot Breeder Diet and restart the conversion process from this point. If the bird is not eating, the excreta color will become dark green and the volume will decrease. If the bird is consuming the Mazuri® Parrot Breeder Diet, the excreta will be a brownish-green color.  Feeding Mazuri® Parrot Breeder Diet at 60% of the diet will meet the nutritional requirements of birds at maintenance (offer seeds, produce and nuts for the other 40%).  However, protein and calcium requirements of breeding birds are not met at the 60% feeding rate.