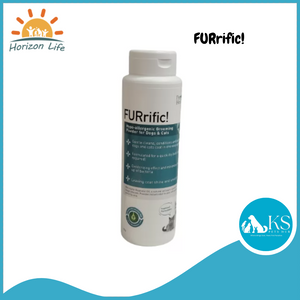 Formulated for quick dry bath
can be used together with pets bedding
Leaving coat shine
Help stimulates and promotes skin healing
Gentle cleans, conditions and deodorizes in one easy application
With Alpha-Bisabolol Oil:

Natural antiseptic against bacterial and fungal infection (Minimizes build up bateria)
Instant relief for pets with sensitive inflamed and itchy skin

Ingredients:
Talcum Powder
Alpha-Bisabolol Oil
Lavender Oil
Aloe Vera & etc
Directions for use:
Step 1: Sprinkle FURrifc! all over coat, avoiding the eyes and ears.
Step 2: Brush or comb thoroughly to ensure the powder is distributed evenly.
For better results, use 2-3 times a week or may be used as often as required.