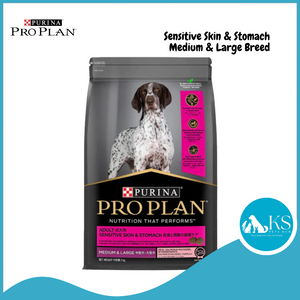 Just like humans, some dogs are born more sensitive than others. When food intolerances do occur, the immune system reacts abnormally to normally harmless ingredients, such as chicken, beef, soy, corn and wheat.
Pro Plan Adult Sensitive Skin & Stomach Medium & Large Breed Dry dog foodis scientifically developed to help reduce the risk of adverse food reactions, and is a combination product to support skin conditions and stomach health in your dog.
Made with selected protein sources, salmon & mackerel are the first ingredients. It contains EPA and Omega 3, which help with skin inflammation and repair. Plus bio-active prebiotics such as chicory, and natural fibres such as beet pulp for a healthier digestive tract.