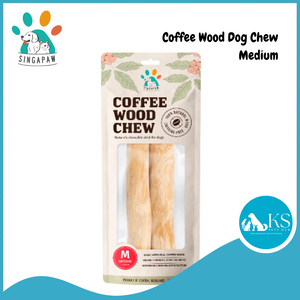 Singapaw Coffee Wood Dog Chew is a natural chewable stick for dogs. It is 100% natural, vegan-friendly and free of caffeine, chemicals and additives.   Provides the perfect chewing pleasure for every dog, with the natural aroma of coffee wood. Relieves stress and boredom while satisfying your dog's chewing instincts.
Saves your furniture from the destruction of teething puppies and dogs by keeping them entertained as they gnaw on and on and on for maximum chewing satisfaction!    Features:
Maximum chewing satisfaction for dogs.

Keep your furniture safe from destruction.

Coffee wood is a dense wood, less prone to splintering.

Suitable for all dogs, best for teething puppies.