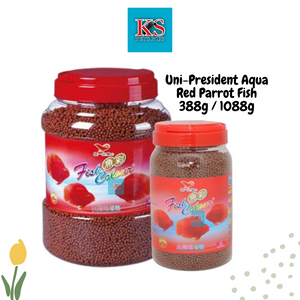 #1 Red Parrot Fish Food 388g by UNI-President, Good Nutrition is always a must for all aquarium inhabitants. Providing the proper type of food containing all the necessary nutrients will provide healthier fish with stronger immune systems, better growth and more vibrant colors.
This product has been produced under ISO-9001 and ISO-14001 certified process plant.
Features
Superior color enhancer, suitable for all size of Pearl Flower Horns, Red Parrots, Cichlids and other ornamental fish.
Fortified with astaxanthin and spirulina to quickly and naturally enhance color without causing burdens to the health of your fish
Natto Probiotics added to help digestion and to reduce water pollution
Premium krill meal and fish meal for better taste
Aqua Master fish food does not contain any synthetic hormones
Main Ingredients
Premium fish Meal, Krill Meal, Soybean Meal, Wheat Flour, Starch, Wheat Germ, Fish Oil, Lecithin
Additives
Nucleotide, Astaxanthin, Spirulina, Probiotics, Antioxxidant, Stabilized Vitamic C, Vitamin A, Vitamin D3, Vitamin E, Copper Proteinate, Iron Proteinate, Zinc Proteinate, Manganese Proterinate, Selenium-Yeast, Chromium-Yeast, Ethylenediamine Dihydriodide (EDDI)
Guaranteed Analysis
Moisture 10.0% ↑
Curde Protein 40.0% ↑
Crude Fat 3.0% ↑
Ash 16.0% ↓
Curde Fiber 3.5% ↓