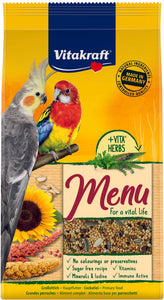 A BALANCED STAPLE FOOD - FOR BIRDS.
The menu range is the perfect basis for the healthy nutrition of birds, with each delicious and nourishing bag matched to the species involved. Contains essential vitamins and mineral, with proven Iodine Vital Complex, beta glucans and an optimal calcium to phosporus ratio.

ESSENTIAL VITAMINS The ideally suited content of essential vitamins prevents deficiencies and promotes the animal's wellbeing.
IODINE VITAL COMPLEX The proven complex ensures sufficient supplies of iodine, minerals and other trace elements to support the bird's healthy life.
PRO-BONES The optimum calcium-phosphorus ratio supports healthy bone structure in birds.
IMMUNE ACTIVE Beta-glucans strengthen the bird's powers of resistance - to active the immune system.
• Sugar-Free Recipe • No Artificial Colours & Flavours • Zero Preservatives • Finest quality seeds and grains used