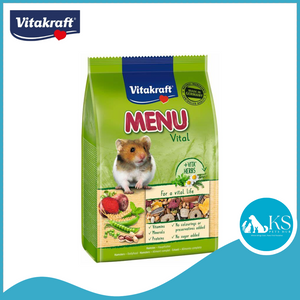 Menu Vital is a species appropriate, balanced mix for hamsters that tastes not only delicious but are also everything what they need for a healthy life. The proven vital complex bends beyond deficiency symptoms and provides an extra boost of vitality.
Contains good quality seeds, valuable grain, delicious vegetables. It also contains essential vitamins, minerals and trace elements that helps in optimal management of the animal.
Good quality proteins provide important amino acids for the agile hamster . The linoleic acid contained as well as zinc and biotin maintain the coat and ensure a healthy, shiny coat.
Composition: Cereals 68.9%, derivatives of vegetable origin, seeds 6.8%, vegetables 3.6%, minerals, nuts 1.3%, oils and fats 0.35%, vegetable protein extracts, yucca shidigera extract.
Guaranteed Analysis:
* Protein  -  14,0% Supplemented Additives/kg:
* E672, Vitamin A 7435 IU
* E671, Vitamin D3 775 IU
* biotin 85 ug
* E8, selenium 0.057 mg
* E1, iron 41.16 mg
* E2, iodine 5.00 mg
* E4, copper 2.54 mg
* E5, manganese 46.48 mg
* E6, zinc 28, 94 mg
Technological Additives: Less than 1g 568 Klinoptilolith 5669.78 mg with dyes.
Feeding Guide: 10g (1 tablespoon) per hamster daily + hay + plenty of clean and fresh water.