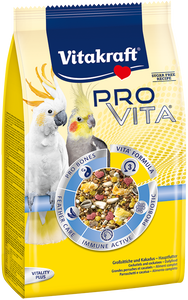 VITA® FORMULA:
WITH OMEGA-3 FATTY ACIDS Important for cardiac activity, the brain and the immune system. They body can't produce them itself, so they have to be absorbed from food.
WITH ESSENTIAL AMINO ACIDS In a combination that is healthy for the body, Amino Acids are the building blocks of protein. The correct combination increases the biological quality of the feed.
THE BEST CARE FOR YOUR BIRDS.
Pro Vita® is a balanced staple food for birds of variant species. The functional blend contains many tasty ingredients mixed together with Vitakraft's unique VITA® FORMULA - a combination of high-quality omega-3 fatty acids specially developed by our bird experts. 

 Pro Vita® also includes: • Beta-Glucans: Strengthens the immune system. • Probiotics & Dietery Grits: Supports stomach and intestinal function. • Methionine: For beautiful and healthy looking feathers. • Optimal Calcium-Phosphorous Ratio: For healthy bone growth.